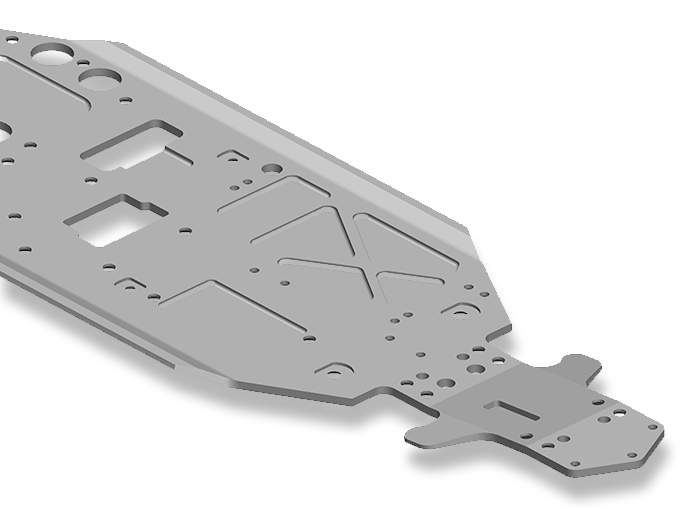 When it comes to GT racing, chassis width and corner clearance is huge, they control the lean and body roll in all directions. In addition to that, the roll and lean angles ultimately control the maximum cornering force. We kept the chassis the narrowest in nature that was possible, while increasing the corner clearance. However, we took it another step further. We pioneered the front of the chassis to adhere to the ROAR and IFMAR rules of a minimum kick-up angle, while increases clearance, for curbs, uneven track and under heavy braking. This also allows for a nice mounting surface and easy to find body posts as they will be facing fully vertical.
A carry over from our Nitro on road heritage, the GT program was upgraded with fully aluminum bulkheads, suspension brackets and center 2 speed mounts all included in the kit. These 7075-T6, components are all black anodized with Silver shiny edges. The looks are 2nd to none.
As a company we are fully invested in the GT class, and to take this category to the next level, we understood the need to have the suspension brackets vertically adjustable so you can fine tune your GT to any condition. These suspension brackets are made from 7075-T6 aluminum alloy. We have also added new RC shims to adjust the roll center at 1 and 2 mm off the chassis plate. This again further allows you to fine tune your kick angle, anti-squat and Roll center height.
As mentioned above there are some new adjustments, but some old ones as well. The 7075-T6 brackets also allow you to fully adjust the front kick-up 0,0.5,1,1.5 and 2 degree increments. The rear anti-squat is no different as you can adjust that from 1,1.5,2,2.5,3 degrees, and the Toe-in adjustment can be made, 2,2.5,2.75,3,3.25,3.5 and 4 degrees using the inserts provided in the kit.